Collaborations
Recent projects produced by Heather in creative partnership with fellow writers and artists
 
Body, Mind, Spirit
Paintings by multimedia artist Elaine Soltis and poems written by Heather in response to the paintings were exhibited at Alvernia University's Miller Gallery in 2017.
Also displayed were some of Heather's Vortex Street poems printed on banners and hung on large, freestanding metal frames placed around the gallery.

VIDEO, TOP: Heather reads in flow with images from Elaine's paintings
Below: Select IMAGES FROM THE EXHIBITION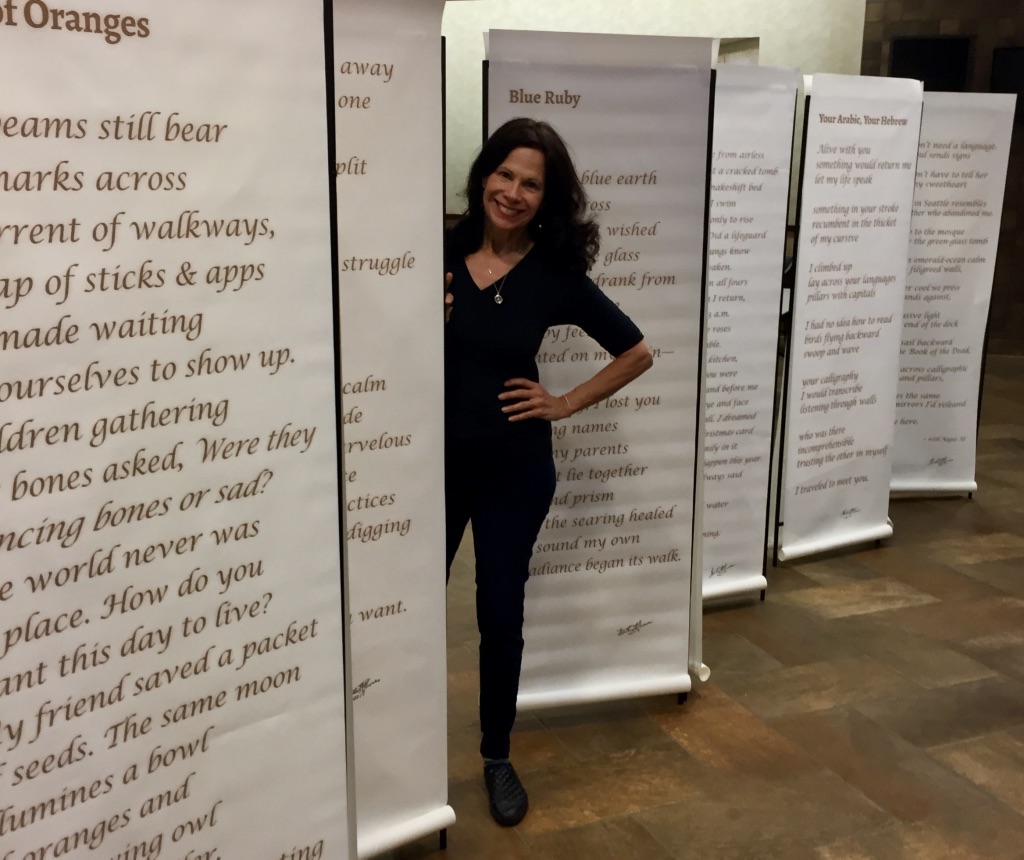 Counterspirit
Heather and Eyptian poet Nagat Ali collaborated on writing the poem "Counterspirit," published in Mizna: Prose, Poetry, and Art Exploring Arab America. Vol. 17.1, 2016.
excerpt:
I think of the elusive
light at the end of the dock,
us sailing backward
into the Book of the Dead,
sisters across calligraphic
waves and pillars
of the upright pronoun,
our eyes the same
black mirrors I'd released
to come here.
The Fray
Limited-edition chapbook, Kutztown Publishing, 2000.
Heather's poetry is woven with images of embroidery art by Barbara Schulman.
Barbara's art recalls the meditative process of lacemaking and the stitched sampler made by 19th-century girls and women who embroidered ornate alphabets, trees of life, and images of mortality.
Heather's poems suggest the fray as an unraveling or worn edge through images of family, memory, loss, and yearning. The poems invoke matriarchy and myth as threads for renewing the path of female creativity and power.
Excerpt:
a tree branches from both ends
allotted an inlet of ground
spelled by memory
not to have her thread
cut at a perilous moment